Discover the Majestic Beauty of Katskhi Pillar
The Katskhi Pillar is a natural limestone monolith that is located in the vicinity of the small town of Chiatura in Georgia. It measures approximately 40 meters in height and stands isolated on a hilltop, which gives it a majestic and awe-inspiring appearance. It is a unique natural wonder, which has been attracting visitors from across the world for many years.
The Katskhi Pillar has a rich history dating back to the 9th century. According to local legends, a hermit monk named Maxime lived on top of the pillar for over 20 years in the 9th century. Later, during the 14th century, the pillar was used by St. John the Baptist of Katskhi as a place of worship and solitude, with a small church being built at the top. The church was abandoned in the early 20th century, and the pillar remained abandoned thereafter.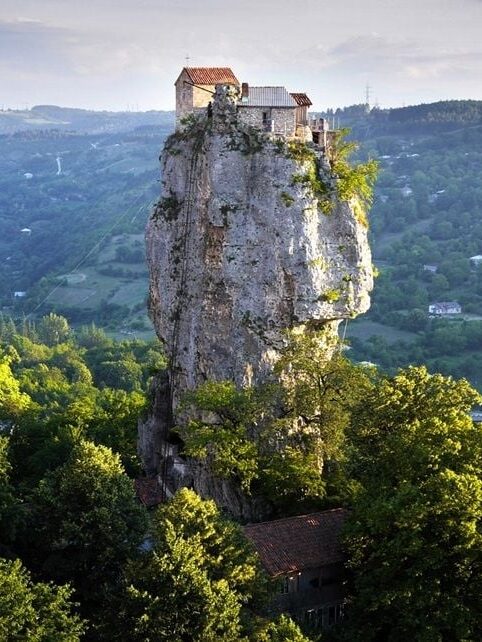 In the 1990s, a group of Georgian climbers discovered the abandoned church and started a restoration project on the Katskhi Pillar. The restoration project was successful, and today, the monastery on the top of the pillar is accessible to visitors. However, to visit the top, one must climb a 20-meter steel ladder without any harness or safety equipment, making it an adventure that is not advisable for the faint of heart.
The Katskhi Pillar is an excellent destination for tourists who enjoy hiking, climbing, and adventuring. Visitors come from all over the world to explore the pillar, take in the breathtaking views from the top, and learn about the history of the Georgian Orthodox Church. The surrounding landscape, which features green valleys, mountains, and rivers, is equally impressive and adds to the overall experience.
#KatskhiPillar, #Georgia, #Monolith, #AdventureTravel,