Devil's Bridge in Ceredigion, Wales: A Scenic Wonder with a Dark Past
Devil's Bridge in Ceredigion, Wales is a historic arched bridge that has been attracting visitors from all over the world for centuries. Built in the late 11th century, this remarkable bridge sits on the banks of the River Mynach, just a few miles east of the town of Aberystwyth. Its structure is an engineering marvel, and its location amidst stunning natural scenery has made it a popular tourist destination for those who appreciate the beauty of ancient architecture.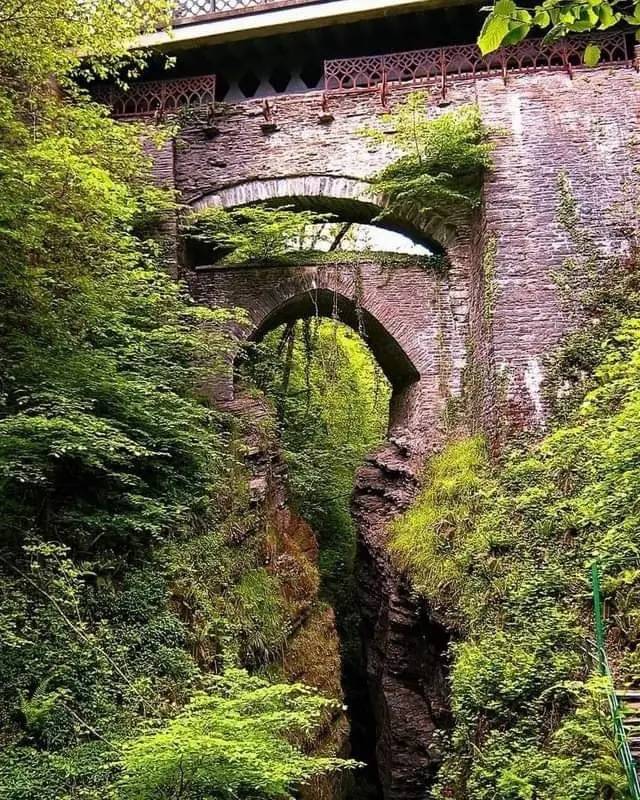 According to local legend, Devil's Bridge was built by the Devil himself. The story goes that a local woman was having difficulty crossing the River Mynach, and she made a deal with the Devil to build a bridge. He agreed to build the bridge, but only if the first living thing to cross it was his own. The woman agreed, but outsmarted the Devil by throwing a loaf of bread across the bridge, which a dog ran after. The Devil lost his bet, and the bridge was built.
The true history of Devil's Bridge, however, is a bit different. It was built in the late 11th century by a group of monks, who needed a way to cross the river to visit a neighboring monastery. The bridge was built of local stone, with three arches spanning the river. Over the centuries, the bridge has undergone several renovations, with the most significant being in the 18th century, when the central arch was replaced with a larger, single arch to allow for the passage of larger boats.
Today, Devil's Bridge is a popular tourist destination, and visitors can explore the bridge and the surrounding area on foot or by bike. There are several trails that lead to the bridge, including a steep climb down to the riverbank. Visitors can also take a ride on the Vale of Rheidol Railway, which runs along the banks of the River Mynach, offering some incredible views of Devil's Bridge.
In addition to its stunning natural beauty, Devil's Bridge is also home to several other attractions. One of the most popular is the Devil's Bridge Falls, a series of three waterfalls that cascade down to the river below. Visitors can follow a path through the woods to the falls, with several viewing platforms along the way.
Another notable attraction at Devil's Bridge is the Hafod Estate, a stunning arboretum that was once the private residence of the wealthy Ceredigion landowner, Thomas Johnes. The estate features several miles of woodland walks, as well as a collection of rare trees and plants from around the world.